Meet one of our Researchers
Interview with Anna Tompsett, Assistant Professor at the Department of Economics.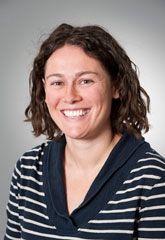 What is your research about?
I try to understand how public goods - things that benefit us all, like infrastructure or public health - affect human development. My research uses field experiments, for example in Bangladesh, where I work in partnership with an organization called NGO Forum for Public Health to learn about how best to provide safe drinking water to rural communities. We experimentally vary the rules under which we implement projects to provide communal wells, and see how the impact of the project changes as a result. I also look for natural experiments to study similar questions in observational data.
What is it like to be a researcher at Stockholm University?
Stockholm University is a wonderful place to be a researcher. We have a healthy balance between time spent on teaching and on research; Sweden has very generous research funding; and we have inspiring students and colleagues to collaborate with.
What is it like to live in Stockholm, Sweden?
I'm still amazed all the time by just how beautiful Stockholm is. It's a particularly great city if you like to be outdoors: skating on the lakes in the winter, swimming from the city beaches in the summer.
How much interaction do you have with students?
I have quite a lot of interaction with students. I teach a course on the Economics of Development and the Environment for the Masters students, and I co-teach Development Economics to the PhD students. I also supervise student both Masters and PhD students, and work with students as research assistants.
What is the best part of your work?
Everything! I have the best job in the world!

Last updated: June 2, 2017
Page editor: Anne Jensen
Source: Department of Economics