Anders Akerman, Researcher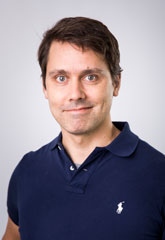 Stockholm University
Department of Economics
SE-106 91 Stockholm Sweden
+46-8-162163

Short presentation
Anders Akerman works at the Department as an Assistant Professor. He completed my Bachelor and Master degrees at the London School of Economics and Political Science (LSE) and obtained his Ph.D. at Stockholm University. He has since also been an academic visitor at the University of Chicago and the Institute of Fiscal Studies (IFS) in London.

His research focuses mainly on how new technology and international trade affect modern economies. He is particularly interested in the effect on aggregate productivity, the wage structure and firm dynamics. He studies for example the impact of broadband internet, intermediation in international trade, outsourcing, arms trade and the economy of China.
Research interests
Primary field: International Trade
Secondary fields: Labor Economics, Applied Microeconomics, Microeconometrics and the Economics of China
Teaching fields: International Trade and Econometrics

Publications
"Wholesalers and Economies of Scope in International Trade", Canadian Journal of Economics, 51(1), 156-185, 2018.
"Oligarchies and Development in a Global Economy: A Tale of Two Elites" (with Anna Seim and Alireza Naghavi), Economic Inquiry, 54(1), 229-246, 2016.
"The Skill Complementarity of Broadband Internet" (with Ingvil Gaarder and Magne Mogstad), Quarterly Journal of Economics, 130(4), 1781-1824, 2015. Online appendix.
"The Global Arms Trade Network 1950-2007" (with Anna Seim), Journal of Comparative Economics, 42(3), 535-551, 2014.
"Sources of Wage Inequality" (with Elhanan Helpman, Oleg Itskhoki, Marc Muendler and Stephen Redding), American Economic Review, Papers and Proceedings, 103(3), 214-219, 2013.

Working papers
"The Relative Skill Demand of Superstar Firms and Aggregate Implications" (Research Papers in Economics, Department of Economics, Stockholm University 2018:2)
"Information Frictions, Broadband Internet and the Relationship between Distance and Trade" (with Edwin Leuven and Magne Mogstad)
"Do Technology Differences Drive Measured Differences in Firm Productivity?" (with Ingvil Gaarder and Magne Mogstad)
"Outsourcing and the Division of Labor between Firms: Evidence from Swedish Cities"(Research Papers in Economics, Department of Economics, Stockholm University 2010:14, with Loriane Py).
"The Effect of Intra-Industry Trade on Aggregate Productivity: Is there a Bridge between Theory and Data in Oresund?".
"Country Size, Productivity and Trade Share Convergence: An analysis of heterogenous firms and country size dependent beachhead costs" (CEPR Discussion Paper 6545, with Rikard Forslid).

Citations

Non-journal publications
"Slentrianmässig kritik" (2005) Brännpunkt, Svenska Dagbladet, October 11, 2005.
"Kinesiskt Saab en vinstlott" (2009) Debatt, Dagens Industri, May 13, 2009.
Additional information
Last updated: August 10, 2018
Page editor: Anne Jensen
Source: Department of Economics